My literal top favorite thing about the Riviera Maya is it's close proximity to some of the most amazing bodies of water. Here is a short list of some of my fave, must-visit spots to explore so far.
Punta Esmeralda
Punta Esmeralda is one of the best public beaches in Playa del Carmen. It's only about 20+ blocks (a short 80 peso taxi ride) from the center of Playa, which in my case is around 38th & 5th Ave. If you're further down 5th, then expect to pay a bit more. One can definitely bike or foot it all the way up 5th, but I prefer to hop a cab. It's just way faster.
On the end of the beach past all of the resorts is the best place to wade in, as it's extremely shallow and the current is not very strong at all. Your landmark once you get there is the pool of clear water right alongside the beach... perfect for splashing around with a toddler if you happen to have one on hand. If you get hungry, to the left of the lifeguard stand is the very tasty Coco Beach Club taco truck, which serves some of the freshest pico de gallo I've had in Playa. The fish tacos and shrimp ceviche are A1. Punta is one of my go-to beaches when I want to get away without having to go too far. Also, if you feel like exploring the area a bit, I hear Vaqva Express has some of the best, freshest seafood in the neighborhood. To get a cab back towards the main section of 5th Ave, just walk up the hill one block to 10th Ave. and you'll be able to flag one, no problem.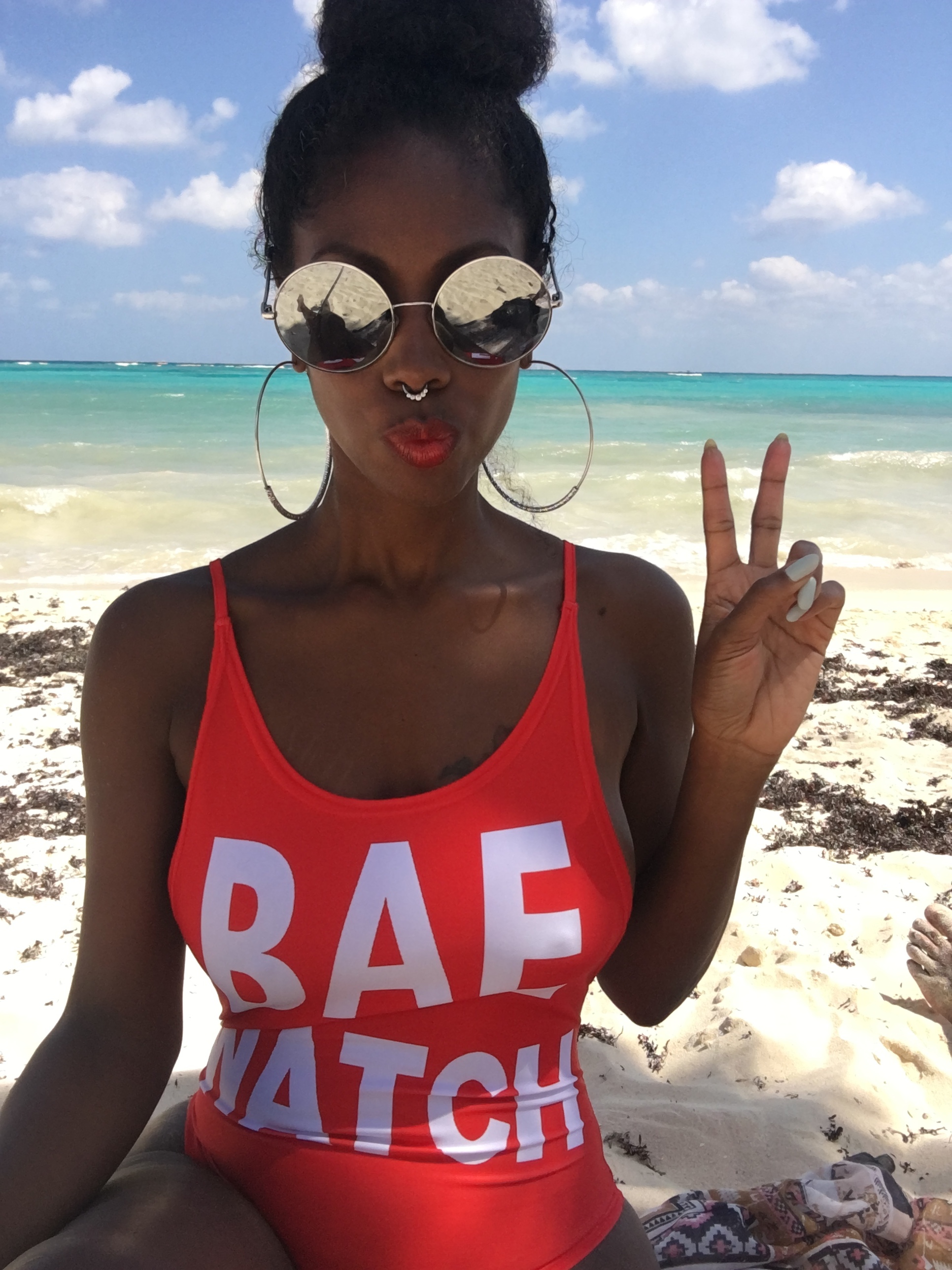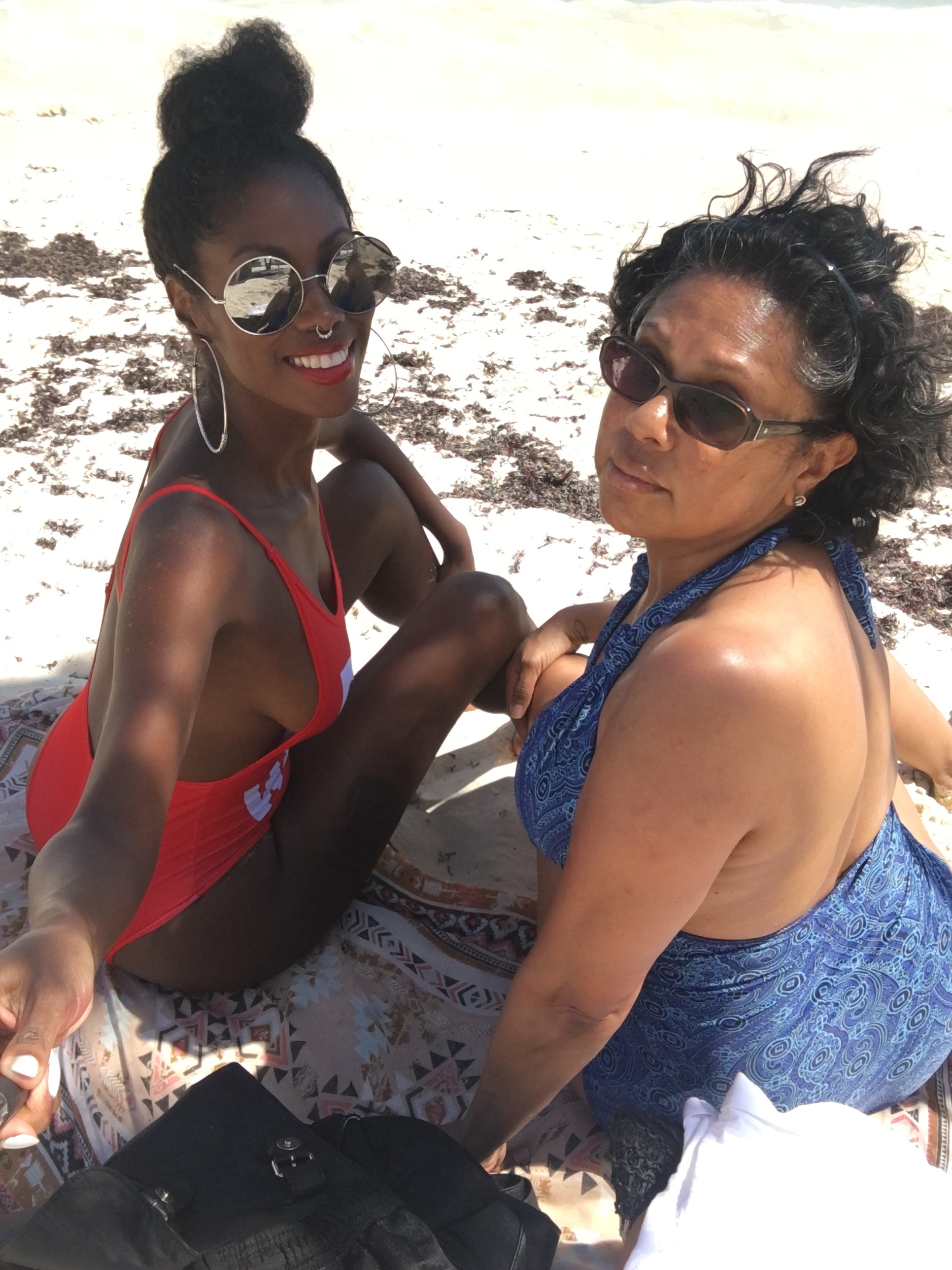 Pueblo Mágico are the two words that come to mind when thinking of Isla Mujeres. And if it there weren't so many hoops to jump through to get there from Playa, I'd be there every weekend. From Cancun is no problem, it's just an Ultramar ferry ride away. From Playa, on the other hand, you have to get to the ADO station, take the bus to Cancun, grab a cab (or the less expensive local Autocar bus) to the ferry, then Ferry to the island. It's totally worth it, but you've got to be a bit determined. I know you can also take Colectivo (the local shuttle) for a fraction of the cost. But you kinda gotta know where you're going, and which one to flag down. And honestly, my Spanish hasn't improved enough (in my opinion) to navigate the local line. But if you're more adventurous than I, I'd say go for it. I like saving a coin where I can. And trust me, Isla is worth the trouble. Check out this resource for a guide to the bus situation in Cancun, which is sort of the catch all hub for most transportation.
I hear the water at Isla, is typically tranquil-- like, no waves at all. And though, that's my personal preference, it wasn't the case the weekend I went. However, they weren't crashing or rough by any stretch of the imagination. Just know that I'll definitely be back. I think I need a whole weekend as opposed to just a day trip next time, though. I spent the entire afternoon at Mayan Beach Club, which I enjoyed tremendously. They have a great girl-band that plays classic Mexican hits (which oddly, I knew quite a few set songs played-- thanks to my Cali roots, apparently). Mayan BC is a part of a hotel. And to rent a beach chair and umbrella, it only costs 200 mxn pesos ($10 USD), of which can be applied to your food and beverage bill. That's a major score, and the best deal you're going to find on the side of the island where the beach is suitable for lounging on. The other beach areas are a little rocky, more or less, and better suited for diving. And speaking of diving, you can easily arrange a tour for a few hours of the day for less that $20 USD. However, many locals just rent dive equipment from one of the stands near the ferry dock and go for dolo. There is also a beach there, where local families hang out at... and it's much more lively, if you prefer that type of atmosphere. And, in spite of what I've read elsewhere on the internets, I've seen with my own two eyes that there's no shortage of places to rent golf carts from to get you around the island, if that's how you choose to spend your day. Be sure to stay for the sunset, which is rumored to be one of the best in Mexico.
Playacar
Playacar beach is situated next to Playacar the neighborhood, which is gated and vaguely reminds me of residential Fort Lauderdale. The beach itself is cute, and clean with plenty of sand to spare. This is a highlight that I bring up because geologically, the receding shoreline is a real problem in and around Playa del Carmen. So, you'll have plenty of space to get your Baywatch trot on in Playacar. Some things to be aware of: If you want to spend the day there, plan to bring your own umbrellas, towels, chairs, food and drinks, because there are literally zero spots of shade or places to purchase these things behind the gate.
If you have none of the above, you can try your hand at negotiating with a cabana guy for a beach lounger, but expect to pay a little extra for a hot plate of food. The problem with this is that because you are not a real guest of the resort, you don't get access to the facilities or even get to pick your choice of food and drinks (soda) that they will essentially sneak to you. The resorts in the area are all-inclusive. So, although you can buy your way to a few beach comforts, don't expect much in terms of service. Yeah, low maintenance is key in this situation.
And the ONLY reason I know about any of these shenanigans is because the time I went, I was with a local who knew the twist. Yet, he failed to mention anything about the whole BYOB situation. It would have been nice to know ahead of time so we'd have been better prepared and not had to "squat" on private property. I mean, to be fair, he was a dude and apparently his idea of a day at the beach was just bringing a couple of juices, a towel and some goggles. We, on the other hand, a bunch of girls, were expecting sh*t like shade and food and beverage service. And, it's not that we were on some bougie Americana sh*t, because the other girls were Brazilian and we were all on the same campaign. So yeah, that's Playacar. And now we all know better... you too.
Tulum
Tulum is a very seductive, boho-chic, magical space that just screams "get me pregnant." It's perfect for couples, and... weirdly, mother-daughter trips. I think it's all the pretty. Tulum is soooo pretty. It's full of ambiance, eco-spas, boutiques, low-key trendy restaurants and shade-lined streets. And that's just the main street closest to the beaches. The ruins are there to explore, the sand is powdery and the water is, well, the sea. What's not to love?
The only possible downside is that one must drive (taxi, in my case) to get around everywhere. There's definitely a community bus (not the Colectivo, but similar) that will take you from the boutique shopping area back to the centre (the intown main strip away from the hotels), and it's only 20 pesos. There are a number of bars, restaurants and shops there-- but it's not the same atmosphere as the section near the beach. As far as transportation, I haven't fully figured out where to catch it to go from the centre, where the ADO drops you off at. Yes, yet another bus ride from Playa. Fortunately, ADO is very comfortable, convenient and will take you all over the Riviera Maya for about 5-10 US bucks, depending on the destination. Nevertheless, from the station to the beach, by cab, is only 80-100 mxn pesos. I DID manage to find the Colectivo pick-up spot to get back to Playa from Tulum the last time I was there; and it was only about 25 pesos ($1.50 USD). Score! However, once you get back into the Playa city limits, you've gotta know where to hop off that's closest to your destination. Otherwise, the de-boarding depot is near Benito Juarez, which is a busy main street. From there, you'll be able to walk or cab back to your specific destination.
Sacbe, oh how I love thee. In fact, I love Sacbe so much that I wrote (and filmed) an entire post about it here. There are many reasons to love it. But my new favorite, which I hadn't discovered the first time I went, is the sculptor's house. Which is basically a whimsical mansion in the jungle, which you can rent out for private events. And mark my words, I WILL be throwing a lavish dinner party there in the not-so-distant future. Oh, and of course, the private cenotes... they make for the most refreshing neighborhood pools EVER.
Sacbe is a private, sustainable community. But the reason I keep bringing it up as an awesome place to visit is because they hold some beautiful ceremonies and meditation healing events there, which will grant you access. It's definitely worth visiting because although it is in Playa, it's basically jungle right on the outskirts of the hustle and bustle of the tourist end of the city. What a juxtaposition!
Cenotes, literally anywhere
The one thing the Riviera Maya is known for is it's cenotes, which are, for the most part, underground rivers. I mean, there are quite a few that are uncovered, or half enclosed (my favorites). These waters used to be the Mayan's main drinking source. They are mildly salty, but much, much softer than ocean water. One only has to go for a dip to understand how energetically charged they are. It's unexplainable. And of all the beaches I covered, the cenotes are quite special and deserving of a separate mention. There are too many to name, but they are literally everywhere. Some of them charge a small fee for entry and equipment rental. So, in my opinion, you're much better off seeking and going to find a cenote alone rather than on a tour. You'll have much more time to enjoy them that way.
I like to take my time exploring a space, so tours just aren't for me. I've literally only been on one the whole time I've been here. And that's because I got a sweet discount from a friend to take my mom to the ruins when she came to visit. We hit up 3 locations in one day and were back by 6:30. It was a lot of bang for the buck, so it made sense in that situation. Being somewhat "local" I typically don't feel the need to rush here and there. Especially since I know that Playa Del Carmen is a place that I plan to come back to again and again.
Akumal
Finally, I have one honorable mention here, because this spot has been on my list to get to for awhile now, and that's Akumal. I have been wanting to get to Akumal to swim with them damn turtles for a couple of months now. I was waiting to share the experience with my mom when she came to visit. However, as the universe would have it, the week before she got here the local government had gotten really strict about the rules for visiting the area. Now that the dust has cleared, we've been informed that it's still open to the public, you've just gotta rent your equipment ahead of time (anywhere in Playa) and bring it with you. DO NOT accept offers for a "tour" as those are now illegal. Which is fine with me, as I previously mentioned, I don't care for them anyhow.
A friend of mines, Sarah, went and said that the water is calm enough that you can manage to scuba without a guide, no problem. And she, like I, is terrified of the idea of underwater anything (one of the many things we have in common ;) ). And, by the way, she'll be SO happy when I tag her on IG to know that this post is FINALLY up. Yeah, it's taken a minute. Sorry Sarah, love you!
So that's it, for now. If you happen to find yourself in the Riviera Maya, hit me up on the 'Gram. It's now my second home (really 3rd, next to Atlanta).